Trying to keep the peace, when members in your group are at each other's throats, when they get on each other's nerves, what can you do? Try to mediate, in a round-and-about sort of a way, so you don't end up, as the common enemies, but it's, not that easy! Translated…
My daughter-in-law one day, chimed excitedly, to the Family LINE group, how there's, a night market close to her home, and the photo she'd sent to the group was a street, lit up with the lights during the nights, with a world of fried food stands, the arcades, I'd immediately replied back, "be careful as you don't know the quality of oils the owners used to fry the foods, and the kids shouldn't be allowed to play those arcades, as they may be easily addicted to these games…………"
As soon as I'd typed all of that, my daughter who's away on another continent immediately added on, "it's fine that you go and take that stroll every now and then." I was shocked, I'd, immediately recycled my message back. Thinking about this calmly, if someone rained on my parade, it naturally would, make me feel, awful, and it wouldn't matter if the words that someone was saying to me was right! I'd, contemplated, and felt grateful for my daughter's round-and-about-way of reminding me, so I slammed on the brakes before damages are done.
My friend was once the head of a certain club, he'd shared things on LINE quite a lot. He'd told, that often, as a subject of discussion was opened for debate, some of the group had started, firing those cannons, some, quite stubborn, to one's own beliefs, some swayed with how the winds were blowing, some agreed to others' words, and the words were sharpened, ready for war. The most often was the fight for the parties in the politics, some debated on the policies, some toward the incumbents, and, it'd, made it difficult, for my friend, who wanted to try and mediate between those who are then, engaged, and, he'd, spoken of his "New Year's Resolution" aloud via LINE.
He'd said, "from here on out, no talks of politics, no personal attacks.  When we have a difference of opinions, DO delete those emotional words, to keep the conversation flowing smoothly, rationally", and, for the six months that followed, there's, more harmony within the group of LINE.
getting into an argument on LINE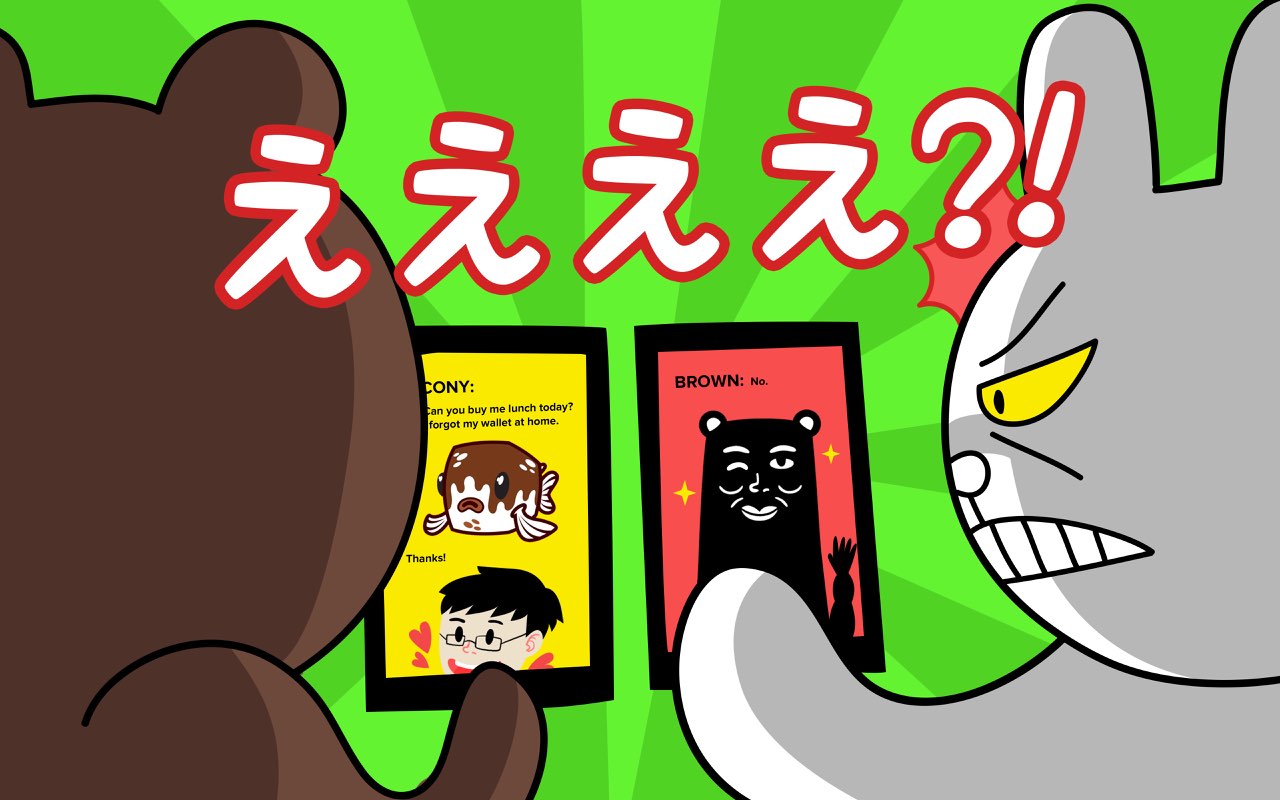 With the inventions of the high-tech gadgets, it'd, made people leap into an alternative world, the parents are, disregarding the needs of their children more now, and the problems between the couples, the parents and children, worsened, as our heads, lowered to our high-tech gadgets these days.
But, think on it, it's not the gadgets that are awful, it's the mindsets of the users, and the timing.  If one can use the gadgets, and not let these high-tech devices control us, then, we won't become, slaves.  Like how those who'd retired who don't live with their children, sliding on their tablets or cell phones, sending the messages, their emotions found a viable outlet, and they're, able to get some news and new information from everywhere around.  Sometimes, they're even, having a webcam conference with the children and grandchildren who don't live close by, the comfort from interaction with one's own loved ones, although they're, separated physically, but they'd become, more than, connected psychologically.  To the point when there's an emergency, the high-tech devices are, very good for sounding off the alarms.
illustration from UDN.com
My friend's older sister-in-law didn't get along with her parents, although one live up north, the other, south, they'd still gotten on each other's bad side over miniscule matters, and, as the two sides were getting heated on the group on LINE, she'd, privately texted her youngest nephew, told him to commend his mother on her cooing, how he's, looked after so well, so the grandparents who lived faraway, in the southern parts of the island know, that they have a good daughter-in-law. And, other than posting the messages on how to live well, my friend told her older sister-in-law that her parents had, commended her in their circles of friends, how they're, so proud of her. And naturally, the problems between this mother and daughter-in-law pair, slowly, resolved on their own.
Working hard, being the middleman of peace, at first, you may feel, tried, because you couldn't make the results of the changes you want to see happen faster, but, after awhile, the results will, show. The communications apps are of various sorts and kinds, with the members numerous, and, it certainly isn't by chance, that we'd, found each other, in the vastness of the ocean-full of people. If you can cherish this affinity, and, work hard, as a connector in every group you're involved in, keeping the peace, for everybody's sake, as you turn on the apps, it can only bring you joys in the days.
This is on, being, THE middleman, and, this woman has some valid points, but, I don't, necessarily agree with her on everything. I mean, it's important, that you want to keep the peaceful flow of conversations on your LINE accounts, sure, but sometimes, you just, can't ignore how someone's words made you flare up, and, if you don't find a valid way to get the angers you feel out, then, it will surely, damage you, and not just your relationship with that other person. And yeah, a middleman who will help, diffuse this, lit up bomb, may be necessary in these cases, but not always.