A D.I.Y. fail! Should've called in, the experts that's for sure!!! Translated…
That year, the new wash basin that I'd just had installed not a few days ago, due to my mistake, got three cracks on it, but it's still, usable, and so, I'd not planned to, change it out. Many years afterwards, I saw my five and two-and-a-half year-old grandsons, tipped their toes, reaching up to the basin to clean their hands, then suddenly, the news of the wash basin exploding that was on the news came to mind, and I'd, suddenly, decided to, get a new one installed.
To make work easier, I'd first gone to the depot, selected a basin that's similar to the one I had originally in shape, color, style, made of plastic, and, thought to myself, I'd installed the tiles on my own floors, redid my own lanai, how hard can installing a wash basin be?  After I had breakfast, I'd immediately, gotten to it, but, I'd, HIT a DEAD wall then; the screw that originally attached my wash basin to the walls was rusted, and I can't twist it off, the two of us started, using all our strengths, to try to pry it open, and, after forty minutes, still not budged one bit; it seems, there's only the way, to SMASH the old basin up.
should've just, called in, a professional to do it!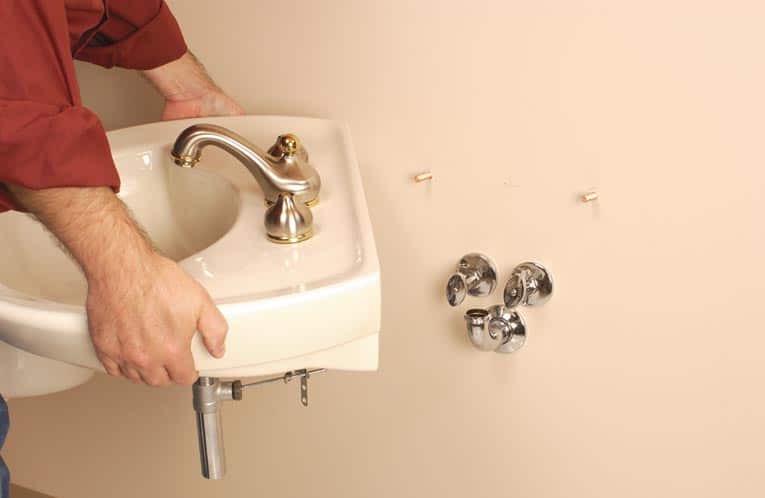 After we'd, swept up the floor's worth of, debris, we'd started, tackling that rusty screw, and yet, as we'd, asked all our pliers out to help us, none can make the single screw budge, and so, we'd, started, sawing it off. My husband found the saw first, then, the two of us took turns, bending our backs over, sawed at it with all our mights, we'd even, taken two rests, then, we finally, unscrewed, these, two screws, loose.
The hole that remained from the screws that were loose, can't be used anymore, we needed to, drill, other holes. There's no drill at home that we can use, my wife went out to buy one. The hole got made yeah, but I can't, tighten the screws in completely, turned out, the whole on the right was drilled too deep, and so, we'd, made another new hole next to it, decided, to install that basin in. And yet, as the screws are about to be placed in, we were shocked, to realizing, that the sizes and types that we bought wasn't, unified, and so, my wife can only, run out, to get the right screw.
And finally, as all is about to get done, the basin was, too far from the wall, because of how that hole on the left was, deep enough, and we'd had to, pull out the plastic plugs again, then, drilled, deeper in. But, no matter how my wife pulled at it, the plug simply, wouldn't, budge, I'd gone closer to look, "You need to whack it, hitting around it a bit, and, it should, loosen up?", and surely enough, as I'd, whacked at it a couple of times, the plastic plug came out, but, it's, broken, and so, my wife went out again.
And finally, everything's set, now, the step by step clean up. The pipe's ruptured, I'd needed to, replace the new one, but, I'd, fumbled through FIVE tool boxes that I owned, not a single one that can be used. Waited until my wife bought the replacement parts, the two of us, with glee, started on, the final step: reattaching the pipe back on, and yet, at this time, I'd found, that there were FOUR holes on the pipe, totally needed to be, replaced, so, my wife went out, again, and bought back a set of shiny brass, P-pipe.
And, as all of this is done, I'd looked at the clock, five o'clock, sharp. Can't believe, that this, "simple" changing a wash basin took the two of us, an entire, day!
A lot of things in life, are way HARDER, than you can, ever imagined, like this gig that these two people got into, they should've just, called in the professional plumbers, but they didn't want to waste all that cash, and so, they did it themselves, and, they got it done finally all right, but it took them, a WHOLE, workday, and to think, that had they called in the professionals, it may have been done, in, no more than, thirty minutes, but they wanted to save the money, and they ended up, squandering away the time!
So totally, NOT worth it, is what I say!