Vigilante justice, is still??? Oh yeah, NO justices, but hey, that's what we do, UNDER the INFLUENCE of the WWW here right now! Off of the Front Page Sections, translated…
After the footages of the technical high school female student, Lin getting bullied went viral, the online did a human search and found the abuser, and used violence on the abuser; the man, Huang, who'd led the group in slapping Lin came out, apologizing two nights ago, but, there were the members of the online community who'd, "leaked out" the message, and it'd become a matter of "vigilantes seeking justice", there were about twenty individuals who'd taken the weapons, and ganged up on Huang, beaten his right elbow to and his ring finger to fracture. The police were notified, and arrested a total of sixteen people, including seven teenagers, and the police found, that most of whom didn't know each other, and they were all charged with physical assault, gang-related activities, threats, and other charges too, and two of the group were sent to the D.A.'s office, and the district attorneys after interrogations, sent them home, while the rest of the group were, taken and kept in police custody.
Lin, the technical high school student, and the woman, Hsiao had monetary disagreements, on the 22nd of last month, Lin was ganged up on by Hsiao's boyfriend, Huang (age nineteen), and the group, drinks were poured on her face, while the bystanders shot the footage of a total of fifty-six seconds, and streamed it online, and members of the online community found out Huang's identity, and some of the online community threw eggs at Huang's residence.
vigilantes, seeking "justice"…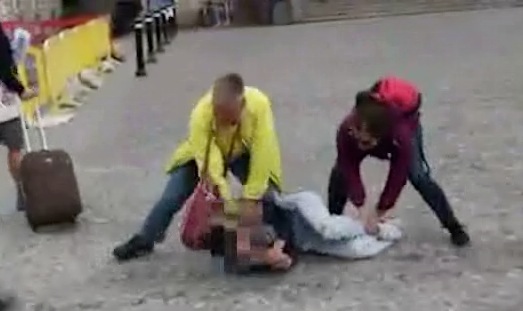 Two nights ago, Huang's friend, the man, Fang (age 19) asked him, "do you want to fix it"?, Huang wanted all of it to be over soon, and agreed, that he would meet out two nights ago at ten, outside a super convenience shop in Hsiaogang to discuss how to apologize, and the man, Lin got in touch with the girl who got slapped, Lin to come but because there was a gathering of, seven to eight individuals, the police were called and came, Fang rode his scooter out to the Rose Cemetery in Daliao District with Huang on the back and continued to "discuss" the matter.
Someone Instagrammed the goings on of Huang making the apology, and everything was tracked online, from the posts and reposts, and reposts of the online community, at around midnight last night, there were, more than twenty individuals who'd, rushed over to the cemetery, and Lin showed up with her father, and talked with her abuser for no more than five minutes, then left, but, within five minutes afterwards, Huang was, ganged up on, and, was taken to the Hsiaogang Hospital, and the hospital immediately, notified the police.
Huang stated, that he'd only known three, to four people who were there, that he'd not known most of them, and that someone had hit him with a bat; Fang tried to cover him up, but it'd not worked, that he planned to sue his abusers for threats, and assault.  Fang also testified, that back then, he did, try his best, to protect Huang, he took along six, to seven others, to film the process of his apologies to the girl, that he'd not known most of those who were there.
The police took in sixteen of the suspected abusers one by one, and found, that most of them didn't know each other, and suspected that someone had, shared the passage of Huang's apology to the adolescent girl at the super convenience shops, and someone started tracking his whereabouts, and, as the online community posted, reposted, and followed up, there were more and more of those who'd gathered around the cemetery, and as soon as Lin and her family members left, they'd, started, gaining up on Huang; the abusers included Fang's friends, and there were those who were there, because of the posts online, the "vigilantes", using violence to fight violence, the police took Fang and one another individual into protective custody, while the rest of the involved were taken to the police stations locally.
Based off of the viral video on IG, while Huang was getting cussed at and beaten on by the gathering crowd, Tseng tried to block him from being attacked, and kept moving backwards; there was another footage that showed Huang getting asked, "how do you want to apologize to the woman?", with Huang stuttered, "I shouldn't have, slapped her", and the individual filming asked him again, "How are you going to apologize?", Huang kept bowing, and said, "I'm sorry, I should not have hit the girl!"
And so, thanks to social networks such as Instagram, Facebook, and, YouTube (for allowing the footages to go VIRAL???), that was HOW and WHY this beat-down happened, and this is happening, more and more often these days, because of all of those tiny matters that you and/or I feel to be, unjustified, and, there are those of you (which I'm nowhere NEAR a member of???), who felt that oh, she got beaten up, and that's not right, and so, you'd, gathered up that huge crowd, and went to TAKE the guy who'd, beaten up that teenage girl up yourselves, and now, you are all gonna get charged, for ASSAULTING the original ABUSER, and in the process of seeking out what you deemed to be, justice, you'd, turned into, ABUSERS too, and wow, you still, don't REALIZE this, because, you'd TOO BLIND by what you deemed to be "justice".
And all of this is due to??? STREAM it LIVE!!!