This is, the portrait, of, D-Y-S-F-U-N-C-T-I-O-N!!!
And, here, comes, that, P-U-N-C-H LINE: we are not now, nor had we, EVER, been, a big, and happy, family, and yet, you wanted to, paint us out like that, why??? Oh, to satisfy your own, little, delusions, that nothing had happened, that everything, was, peachy-dandy, is that right???
Well, got a, NEWSFLASH for ya: it ain't, NEVER, EVER, happenin', 'cuz, just as you'd, suggested from a long, long, long time ago, he wouldn't have that photo of us all, as a big and happy, family, without HIS WHORE, and his, illegit, now it's only, his illegit, 'cuz he'd, split up with his ho already!
And so, what hung on that, god damn wall, of the second-floor living room, of the CASTLE of COUNT DRACULA, was still that photo of me, in that red skirt (yeah, I know, weird, right!!!), standing, beside his parents, with that little mother-FUCKER, stupid son of his, still DROOLING too, I might add! On his, DEAD mama's, lap, and where were my cousins back then??? Oh yeah, they were both still on their ways, to get, "made", nowhere to be found!
The irony, of us as a big, and happy family?  You wish!  And now, here's, the NEWEST family photo "makeup" for me, and my, big and happy family: me, with this DEAD, nonexistent, daughter in my lap, with her two older brothers (still on the way to getting adopted by me, so I really can't tell you their names yet!), one on the left, the other, on my right (kinda like how those two DEAD doggy uncles of Emily had sat!!!), with this, DEAD, nonexistent, EMILY, with the cute head of curls (Which I'm still unsure if that, would be what she would have???  But hey, that was, what I saw, back in, '08-ish???), on my lap, and all SIX of us (with those two angel boys???) would be, looking, AT that camera, and saying, C-H-E-E-S-E!
and here's, what that might, look like, in a, painting, found online…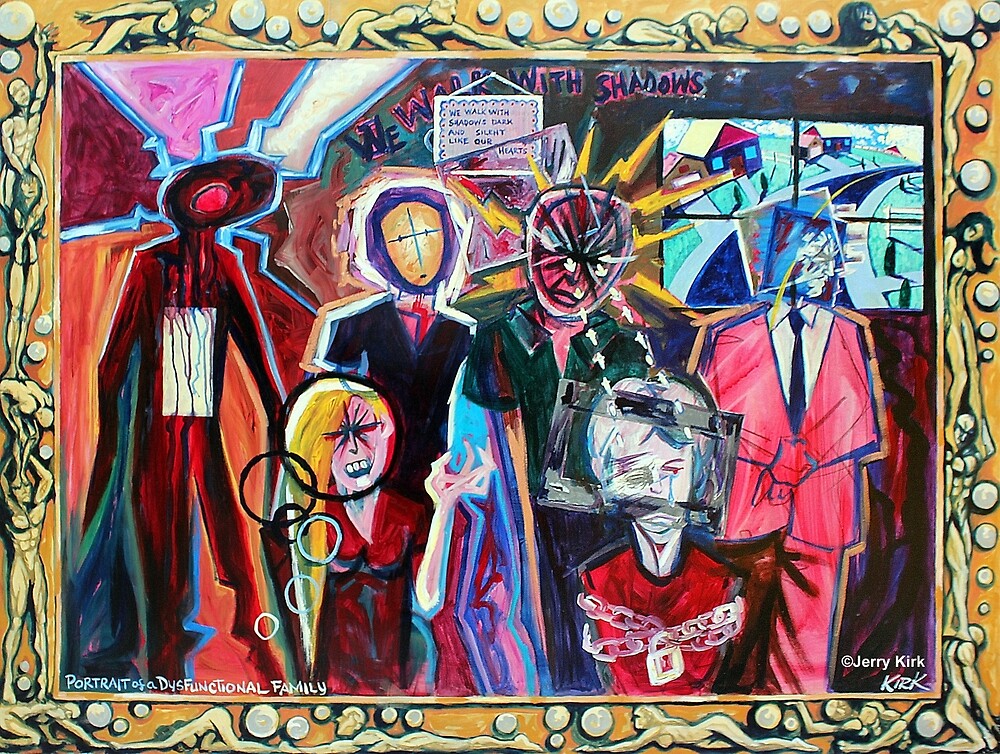 That, would be, our big and happy, family, greetings, for all of you guys, on Christmas, and, have a happy new year too, 'k???
Yeah, uh-huh, uh-huh, uh…………hmmmmmmmmmmmmmmm (this is the "shrink", looking down at her watch!) time's up, see you next week, same time???
Oh, and don't forget, to pay my secretaries (I don't need to reintroduce the three of those, "ladies" to you guys now, do I???), and, I'm currently charging, FOUR cents per article, per "client", instead of the TWO shiny pennies I'd been charging, for the past, decade or so, time for a raise, for us all here!
Yay, raise for us all!!!
Yeah, right…