How this, twenty-dollars' worth of kindness became, so much greater than it'd, started out as, translated…
It was around noontime, as I exited the post office, found the skies, covered with dark clouds, and because I didn't have my umbrella, I'd, hastened my pace, wanted to make it home before the rain came down.
As I was waiting for the lights to turn green at the intersections, I'd found an elderly man in his sixties, on a wheelchair, with a yellowed towel under his neck from below his mask, with the beads of sweats, popping out from his forehead constantly, that extended to his knees, with a bamboo sift, lined with the green lotus leaves, inside were, two tiny bags of ylang ylang, with a piece of paper that said a bag for $20.  Because of how hot it was, he kept using his right hand with only his thumb and pinky left, to hook the towel up on his neck, to wipe himself down, with his palmless left hand, he'd, clung tightly, onto that wheel on the left.
something small like this…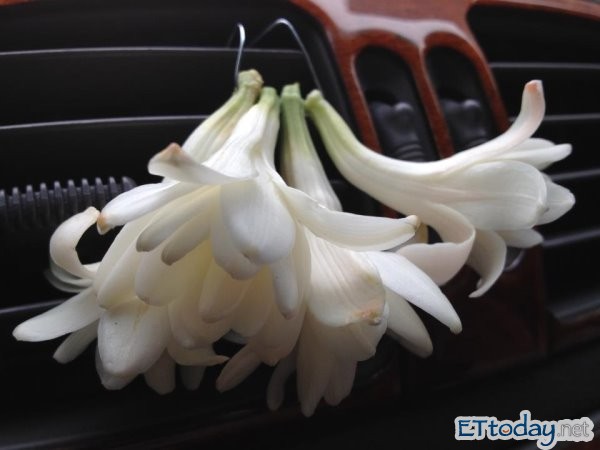 As I bent over to buy some flowers from him, he'd told me that because of the outbreaks, there's, no business on the streets, that's why after the noon hours, he still had a lot left. I'd told him it would be all right, that I want it all, then, he could go home then. He'd, paused a bit, and told me, courteously, that I only needed one pack, that the season of the bloom was quite short, in two, three days, the flowers will be black, and lose the aromas, that I'd be wasting my money if I bought more.
His "would be a waste" touched me, normally, those who sold the items, only wanted to sell the merchandises, as for what happened afterwards, they couldn't, care less.
As I got home, I'd, given the flowers to my neighbors, hoping, that every house get to, bathe in the sweet scent, and hope, that through this tiny sort of sharing, I can greet my neighbors, whom I hadn't seen regularly during this period of outbreak. Although, I'd only give two flowers to every neighbor, but the neighbors were all very, surprised, they all thanked me, and we'd, wished each other, a safe passage.
I could've, never imagined, that the twenty-dollars N.T. I'd spent, made me see the kindness of the man who'd sold it, and also given me the pleasures, of seeing those radiant smiles blooming, from under my neighbors' masks, and I was happy over this, for a, very long time.
And so, the man who sold the flowers was grateful for you helping him out, and, he didn't cheat you, because he felt your kindness, and, you'd, passed that kindness you felt from him, to your, neighbors, through these, simple acts, kindness is, rolling around the world.