Finally, the legislators are, taking this matter, seriously, to get the laws passed! Off of the Front Page Sections, translated…
The case awhile ago from Pingdong of a false crash-abduction, the families of the deceased, Tseng yesterday held a funeral for her in Pingdong yesterday, and it was also yesterday, that the Legislative House passed the "Preventing Stalker" act. The legislator from the DPP, Chou, the head of Pingdong County, Pan went to show their final respects at Tseng's funeral, Chou stated, "we shall never forget how beautiful you were, your kindness, nor your name, because, we'd, named the anti-stalking bill after you."
The newly written law included eight different kinds of stalking, harassment, and will be putting online harassment, and demands for dating into the legislation too, and the offenders can get as high as five years in prison at most, the head of the legislative branch, Su stated, that to make sure that the laws are set up as soon as possible, the measures will be implemented six months after it's signed into effect.
A lot of the legislators urged the passing of the anti-harassment, anti-stalking bill, but it'd not moved forward one bit, until a month later, when Tseng's murder had, occurred, shocking the society; the funeral for the victim was held in Pingdong yesterday, while the anti-stalking laws were passed in Taipei, and the coincidences of timing was, quite, heart wrenching.  Chou told, that she'd told Tseng in her heart, that the legislature will pass a law preventing stalkers, and hoped that the law can be signed into effect before June, "I hope nobody suffered as you had done."
the women here, standing together, urging the passing of this, anti-stalking bill! Photo from online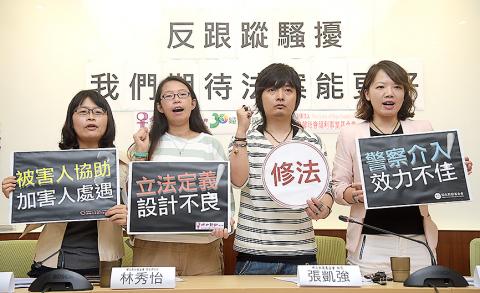 The spokesperson of the Executive Yuan, Lo said, the contents of the draft of this bill was originally set to be effectively in a year's time, but Su believed that it couldn't wait, and revised the act so that it's in effect six months from now. The police departments told, that the stalking laws are the final piece of the puzzle to preventing violence against the members of the opposite sex, that the police departments will be onboard completely.
The drafts of this bill also listed eight sorts of stalking or harassment behaviors, including surveillance, observing other people's habits and stalking, or using other ways to get close to someone's home, school, or workplace; threats toward someone or similar actions; using electronic communication devices, the internet, and harassed the victims, for instance, making the repeated silent calls.
The office of internal affairs pointed out, if there are stalking behaviors, the police can give a written warning, and if in two years, there are the behaviors of stalking again, the victim can file for a protective order. At the same time, as the separate cases are closed, if there's a need, of stalking and harassment, then the protective restraining order shall get passed down, and the time is for two years, and the individuals can file for the restraining orders to be extended.
Yeah uh, you think that's going to, stop stalkers? Of course not, it's just, that it'd, looked, "prettier" on the surfaces is all, besides a woman was murdered by her stalker, and that sent that huge scare to the public, which is why this law is being passed, but, would it, actually work? Don't hold your breaths on it!